Diamond [PCD and CVD] cutting tools are used to machine hard non ferrous materials.
Advantages of Synthetic Diamond Tools:
Increased tool life
Ability to cut a wide range of materials
Resists chipping in interrupted cuts
High material removal rates
Reduced cycle time
Improved part size control
Improved part finish
Lower scrap rates
Reduced downtime
Reduced per part machining costs
Less inspection time
We can supply PCD diamond custom made cutting tools per specification for your milling, turning, drilling, counterboring, chamfering and porting applications. We can also recondition and repair existing PCD tools.
Array of Diamond Cutting Tools, PCD and CVD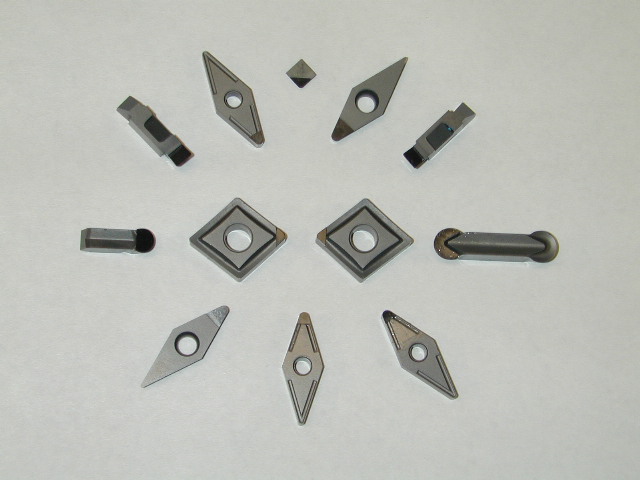 Recommended Diamond Applications:
Nonferrous Metals
Aluminum
Silicon-Aluminum Alloys
Brass Alloys
Bronze Alloys
Copper
Copper Alloys
Lead Alloys
Manganese Alloys
Presinserted Tungsten Carbide
Abrasive Nonmetals
Carbon
Ceramics
Fiberglass Composites
Graphite
Flat tools for turning and milling
Product Number
I.C.
T
R
Product Shape
TCMW 2(1.5)1
1/4
.094
1/64
TCMW 3(2.5)1
3/8
.156
1/64
TCMW 3(2.5)2
3/8
.156
1/32
DCMW 2(1.5)1
1/4
.094
1/64
DCMW 3(2.5)1
3/8
.156
1/64
CCMW 2(1.5)1
1/4
.094
1/64
CCMW 3(2.5)1
3/8
.156
1/64
CCMW 3(2.5)2
3/8
.156
1/32
SCMW 3(2.5)1
3/8
.156
1/64
SCMW 3(2.5)2
3/8
.156
1/32
TPG-221
1/4
1/8
1/64
TPG-321
3/8
1/8
1/64
TPG-322
3/8
1/8
1/32
TPG-431
1/2
3/16
1/32
TPG-432
1/2
3/16
1/32
CPG-421
1/2
1/8
1/64
CPG-422
1/2
1/8
1/32
CPG-423
1/2
1/8
3/64
SPG-321
3/8
1/8
1/64
SPG-322
3/8
1/8
1/32
SPG-421
1/2
1/8
1/64
SPG-422
1/2
1/8
1/32
SPG-632
3/4
3/16
1/32
DNG-432
1/2
3/16
1/32
DNG-433
1/2
3/16
3/64
DNMA-322
3/8
1/8
1/32
DNMA-323
3/8
1/8
3/64
TNMA-322
3/8
1/8
1/32
TNMA-323
3/8
1/8
3/64
SNMA-322
3/8
1/8
1/32
SNMA-323
3/8
1/8
3/64
CNMA-432
1/2
3/16
1/32
CNMA-433
1/2
3/16
3/64
Application/Machining Guidelines
Material
Operation
Surface Speed
(Ft./Min.)
Feed Rate
(In./Rev.)
Aluminum < 12% SI
Finish Turning
2000-6000
.003-.008
Rough Turning
2000-6000
.005-.020
Finish Milling
1000-10000
.001-.005
Rough Milling
800-6000
.005-.012
Aluminum >12% SI
Finish Turning
1000-3000
.003-.008
Rough Turning
1000-2000
.005-.015
Finish Milling
1000-3300
.001-.005
Rough Milling
1000-2500
.005-.012
Metal Matrix Composites
Finish Turning
1000-2400
.004-.010
Rough Turning
800-1500
.005-.020
Finish Milling
1400-2000
.005-.010
Rough Milling
1000-1400
.008-.015
Bi-Metal Aluminum Cast Iron
Finish Milling
800-1000
.004-.006
Sintered Tungsten Carbide < 16 CO
Finish Turning
50-100
.004-.010
Sintered Tungsten Carbide > 16 CO
Finish Turning
75-125
.004-.010
Round tools for porting, counterboring, drilling and chamfering
We can:
Alter/Modify PCD Tipped Tools
Manufacture Tools from Part Print
Manufacture Tools from Tool Print
PCD Tool Conversion
PCD Tool Reconditioning
PCD Tool Redesign