Superabrasive single-pass bore finishing tools are used to finish hone accurate holes in both hard and soft materials. They are a highly productive alternative to conventional stroke bore honing.
Wide range of tolling immediately available from stock
Speeds finishing operations on a wide variety of materials
Provide predictable, consistent, hole size and geometry…for near zero rejection rates
Helical design reduces tool loading, overheating and torque requirements…for extended life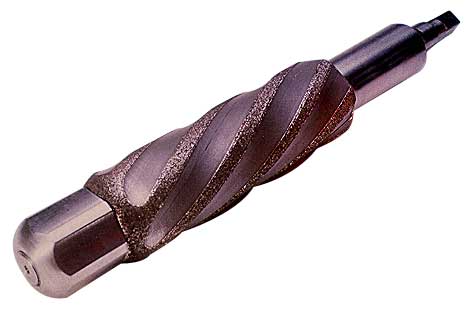 Single Pass Diamond Bore Finishing for use in engine connecting rods, valve guides, electric motor rotors, hydraulic valve bores, bearing bores, fuel injector bores
Replaces…
Convential honing
Bore grinding
Reaming
Bore Lapping
…with a simple automated process.
What can DBF do for you?
Single Pass Diamond Bore Finishing can quickly produce accurate holes in any material
Electroplated diamond abrasive coating wears slowly, tool life is long and size adjustment is infrequent
Used in conventional machines or dedicated bore finishing machine
Reduced hole finishing cost, faster production
Requires little skill to operate