Superior Type 2-Stone and Honing Mandrels adapted to various honing systems.                                                                  
Convert your SUNNEN, AMMCO, EXCELLO or other machines into a two hone stone system!
You'll get the benefits and advantages of being able to use the 2-Stone Honing System...proven to be the fastest and most accurate honing method in the industry! And best of all, you'll reduce the honing costs by up to 65% compared to the SUNNEN system! Compare the differences in system components to cover the honing range from 3/16" to 3" diameter.
SUNNEN
2-Stone Hone System
Mandrels Required

96 soft mandrels
96 hard mandrels

Other Items
Wedges; Stones; Retainers; Adapter Wedge Guide; Truing Sleeves; Guide Shoes
One adapter
Mandrel Life

Mandrel makes contact with the workpiece
2-3 boxes of stones wear out a mandrel

Only stones make contact with workpieces
No mandrel wear for lifetime use
| | |
| --- | --- |
| T1000 Adapter is easy to install on any machine! | This adapter receives all standard Superior type mandrels 1/16" to 3". Simply remove the insert screw, change mandrels, and replace the screw. A Honing Shop Guide is included with each T1000 Adapter. It contains complete instructions to simplify your honing application. |
---
MD-1 MANDREL DRIVER Converts Your Drill
Press Into A 2-Stone Vertical Honing Machine!

INSTANT SET UP--As quick as 1-2-3 without tools.
PERMANENT TYPE MANDREL FOR EXTRA-LONG LIFE--Only the stones contact materials to be honed. Eliminates mandrel marking for cleaner honed surfaces.
CONCENTRIC MANDREL FOR SMOOTHER HONING ACTION--High-precision work produced with less operator fatigue. No realignment of the mandrel as the abrasive wears.
WIDE MANDREL RANGE--From ".060" to 3.000". Over 3,000" subject to quote.
WIDE STONE AREA FOR FASTER HONING ACTION--Longer stone life, larger stone area. Efficient problem-free honing of surfaces with keyways, splines or cross bores. Simultaneous, precision honing of small pieces with short holes such as spacers or washers.

HIGH QUALITY 2-STONE bore honing replaces other stock removal operations.
LOCK-IN FEATURE--Stones are locked in mandrel with a lip mechanism on stone holders over 3/16".
RIGID STONES FOR ACCURACY--There is maximum rigidity of expandable stones because the stone shoe rests directly against the taper of the mandrel and is completely supported along its full length and width. The size control dial adjusts expansion. Out-of-round holes are quickly honed true and tolerances held. There is no tendency to bend, cam, sag or yield.
ENGINEERING CONSULTATION SERVICE--Our skilled engineers are at your service to help you with any honing problem you may have.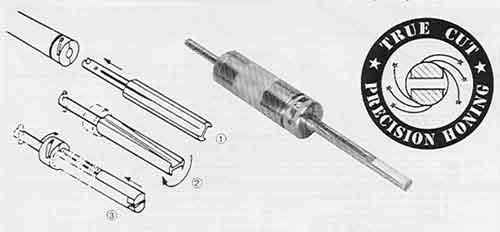 MD-1 MANDREL DRIVER

When accurate sizing and precision finishing is a must, the 2-STONE MD-1 MANDREL DRIVER is the answer!

Keyways and slots hone faster and hold .001 accuracy, ideal for die work, bushings, dowel pin holes. Converts any drill press to a vertical honing machine in seconds! No tools are necessary..snaps in with a twist of the wrist!
>
Mandrels sizes .177 to 3.000 Standard in stock. Furnished in No. 2, 3 or 4 Morse Tapers, straight or special shank.
Mandrel sizes .060 to .177 recommended only for Horizontal Honing machines and on "VH" Honing heads.
MD-1 Mandrel Driver snaps in with twist of the wrist!
---

"A" - "A1" - "A2' SERIES - MANDRELS & STONES
FOR .060" TO 3" HOLES
MANDRELS (Single Stone Design)
STONE (Single Stone)
TRUING SLEEVE
SIZE
RANGE
NUMBER
LENGTH "G"
COARSE
MEDIUM
FINE
LENGTH "F"
.060"
.060-.064
A-058
1-1/4"
A-058--220-S
A-058--320-R
A-058--500-O
1/2"
NOT RECOMMENDED
BUT AVAILABLE
.065"
.065-.073
A-063
1-1/4"
A-063--220-S
A-063--320-R
A-063--500-O
1/2"
.074"
.074-.082
A-072
1-1/4"
A-072--220-S
A-72---320-R
A-072--500-O
1/2"
.083"
.083-.091
A-081
1-1/4"
A-081--220-S
A-081--320-R
A-081--500-O
1/2"

MANDRELS

STONE SET

TRUING SLEEVE
SIZE
RANGE
NUMBER
LENGTH "G"
COARSE
MEDIUM
FINE
LENGTH "F"
SIZE
3/32"
.092-.106
A1-090
1-7/16"

A1-220-S

A1-320-R
A1-500-O

1/2"

AT-090
7/64"
.107-.121
A1-105
1-7/16"
AT-105
1/8"
.122-.136
A2-120
1-7/8"
A2-220-S
A2-320-R
A2-500-O
1/2"
AT-120
9/64"
.137-.151
A2-135
1-7/8"
AT-135
5/32"
.152-.166
A2-150
1-7/8"
AT-150
11/64"
.167-.177
A2-165
1-7/8"
AT-165

MANDRELS

STONE SET

TRUING SLEEVE
SIZE
RANGE
NUMBER
LENGTH "G"
COARSE
MEDIUM
FINE
LENGTH "F"
SIZE
3/16"
.177-.209
A-3-3
4"
A-3-3-220
A-3-3-320
A-3-3-500
1"
AT3-3
7/32"
.209-.240
A-3-4
4"
A-3-4-220
A-3-4-320
A-3-4-500
1"
AT3-4
1/4"
.240-.302
A-4-3
3-1/4"
A-4-3-220
A-4-3-320
A-4-3-500
3/4"
T4-3
5/16"
.302-.365
A-5-5
4"
A-5-5-220
A-5-5-320
A-5-5-500
1-1/8"
T5-5
3/8"
.365-.427
A-6-7
5"
A-6-7-220
A-6-7-320
A-6-7-500
1-1/2"
T6-7
7/16"
.427-.490
A-7-7
5"
A-7-7-220
A-7-7-320
A-7-7-500
1-1/2"
T7-7
1/2"
.490-.552
A-8-9
5-3/4"
A-8-9-220
A-8-9-320
A-8-9-500
1-15/16"
T8-9
9/16"
.552-.615
A-9-9
5-3/4"
A-9-9-220
A-9-9-320
A-9-9-500
1-15/16"
T9-9
5/8"
.615-.677
A-10-10
6"
A-10-10-220
A-10-10-320
A-10-10-500
2-1/2"
T10-10
11/16"
.677-.740
A-11-10
6"
A-11-10-220
A-11-10-320
A-11-10-500
2-1/2"
T11-10
3/4"
.740-.865
A-12-12
6-5/8"
A-12-12-220
A-12-12-320
A-12-12-500
3"
T12-12
7/8"
.865-.990
A-14-14
7-1/8"
A-14-14-220
A-14-14-320
A-14-14-500
3-1/2"
T14-14
1"
.990-1.115
A16-16
7-5/8"
A16-16-220
A16-16-320
A16-16-500
3-1/2"
T16-16
1-1/8"
1.115-1.240
A18-16
7-5/8"
A18-16-220
A18-16-320
A18-16-500
4
T18-16
1-1/4"
1.240-1.365
A-20-16
7-5/8"
A-20-16-220
A-20-16-320
A-20-16-500
4
T20-16
1-3/8"
1.365-1.490
A-22-16
7-5/8"
A-22-16-220
A-22-16-320
A-22-16-500
4
T22-16
1-1/2"
1.490-1.615
A-24-16
7-5/8"
A-24-16-220
A-24-16-320
A-24-16-500
4
T24-16
1-5/8"
1.615-1.740
A-26-16
7-5/8"
A-26-16-220
A-26-16-320
A-26-16-500
4
T26-16
1-3/4"
1.740-1.865
A-28-16
7-5/8"
A-28-16-220
A-28-16-320
A-28-16-500
4
T28-16
1-7/8"
1.865-1.990
A-30-16
7-5/8"
A-30-16-220
A-30-16-320
A-30-16-500
4
T30-16
2
1.990-2.115
A-32-16
7-5/8"
A-32-16-220
A-32-16-320
A-32-16-500
4
T32-16
2-1/8"
2.115-2.240
A-34-16
7-5/8"
A-34-16-220
A-34-16-320
A-34-16-500
4
T34-16
2-1/4"
2.240-2.365
A-36-16
7-5/8"
A-36-16-220
A-36-16-320
A-36-16-500
4
T36-16
2-3/8"
2.365-2.490
A-38-16
7-5/8"
A-38-16-220
A-38-16-320
A-38-16-500
4
T38-16
2-1/2"
2.490-2.615
A-40-16
7-5/8"
A-40-16-220
A-40-16-320
A-40-16-500
4
T40-16
2-5/8"
2.165-2.740
A-42-16
7-5/8"
A-42-16-220
A-42-16-320
A-42-16-500
4
T42-16
2-3/4"
2.740-2.865
A-44-16
7-5/8"
A-44-16-220
A-44-16-320
A-44-16-500
4
T44-16
2-7/8"
2.865-2.990
A-46-16
7-5/8"
A-46-16-220
A-46-16-320
A-46-16-500
4
T46-16
3
2.990-3.115
A-48-16
7-5/8"
A-48-16-220
A-48-16-320
A-48-16-500
4
T48-16
"B' - "B2" SERIES - MANDRELS & STONES
FOR LONG HOLES -.120" TO 3'

MANDRELS

STONE SET

TRUING SLEEVE
SIZE
RANGE
NUMBER
LENGTH "G"
COARSE
MEDIUM
FINE
LENGTH "F"
SIZE
1/8"
.122-.136
B2-120
2-5/8"
B2-220-S
B2-320-R
B2-500-O
1"
BT-120
9/64"
.137-.151
B2-135
2-5/8"
BT-135
5/32"
.152-.166
B2-150
2-5/8"
BT-150
11/64"
.167-.177
B2-165
2-5/8"
BT-165

MANDRELS

STONE SET

TRUING SLEEVE
SIZE
RANGE
NUMBER
LENGTH "G"
COARSE
MEDIUM
FINE
LENGTH "F"
SIZE
3/16"
.177-.209
B-3-3
5"
B-3-3-220
B-3-3-320
B-3-3-500
1-1/2"
BT-3-3
7/32"
.209-.240
B-3-4
5"
B-3-4-220
B-3-4-320
B-3-4-500
1-1/2"
BT-3-4
1/4"
.240-.302
B-4-6
4-1/4"
B-4-6-220
B-4-6-320
B-4-6-500
1-1/2"
T4-6
5/16"
.302-.365
B-5-8
4-3/4"
B-5-8-220
B-5-8-320
B-5-8-500
2"
T5-8
3/8"
.365-.427
B-6-10
6-1/4"
B-6-10-220
B-6-10-320
B-6-10-500
2-1/2"
T6-10
7/16"
.427-.490
B-7-10
6-1/4"
B-7-10-220
B-7-10-320
B-7-10-500
2-1/2"
T7-10
1/2"
.490-.552
B-8-11
7"
B-8-11-220
B-8-11-320
B-8-11-500
2-3/4"
T8-11
9/16"
.552-.615
B-9-14
7"
B-9-14-220
B-9-14-320
B-9-14-500
3-1/2"
T9-14
5/8"
.615-.677
B-10-16
7-5/8"
B-10-16-220
B-10-16-320
B-10-16-500
4"
T10-16
11/16"
.677-.740
B-11-16
7-5/8"
B-11-16-220
B-11-16-320
B-11-16-500
4"
T11-16
3/4"
.740-.865
B-12-24
9-5/8"
B-12-24-220
B-12-24-320
B-12-24-500
5-1/2"
T12-24
7/8"
.865-.990
B-14-24
9-5/8"
B-14-24-220
B-14-24-320
B-14-24-500
6"
T14-24
1"
.990-1.115
B-16-24
9-5/8"
B-16-24-220
B-16-24-320
B-16-24-500
6"
T16-24
1-1/8"
1.115-1.240
B-18-24
9-5/8"
B-18-24-220
B-18-24-320
B-18-24-500
6"
T18-24
1-1/4"
1.240-1.365
B-20-24
9-5/8"
B-20-24-220
B-20-24-320
B-20-24-500
6"
T20-24
1-3/8"
1.365-1.490
B-22-24
9-5/8"
B-22-24-220
B-22-24-320
B-22-24-500
6"
T22-24
1-1/2"
1.490-1.615
B-24-24
9-5/8"
B-24-24-220
B-24-24-320
B-24-24-500
6"
T24-24
1-5/8"
1.615-1.740
B-26-24
9-5/8"
B-26-24-220
B-26-24-320
B-26-24-500
6"
T26-24
1-3/4"
1.740-1.865
B-28-24
9-5/8"
B-28-24-220
B-28-24-320
B-28-24-500
6"
T28-24
1-7/8"
1.865-1.990
B-30-24
9-5/8"
B-30-24-200
B-30-24-320
B-30-24-500
6"
T30-24
2"
1.990-2.115
B-32-24
9-5/8"
B-32-24-220
B-32-24-320
B-32-24-500
6"
T32-24
2-1/8"
2.115-2.240
B-34-24
9-5/8"
B-34-24-220
B-34-24-320
B-34-24-500
6"
T34-24
2-1/4"
2.240-2.365
B-36-24
9-5/8"
B-36-24-220
B-36-24-320
B-36-24-500
6"
T36-24
2-3/8"
2.365-2.490
B-38-24
9-5/8"
B-38-24-220
B-38-24-320
B-38-24-500
6"
T38-24
2-1/2"
2.490-2.615
B-40-24
9-5/8"
B-40-24-220
B-40-24-320
B-40-24-500
6"
T40-24
2-5/8"
2.615-2.740
B-42-24
9-5/8"
B-42-24-220
B-42-24-320
B-42-24-500
6"
T42-24
2-3/4"
2.740-2.865
B-44-24
9-5/8"
B-44-24-220
B-44-24-320
B-44-24-500
6"
T44-24
2-7/8"
2.865-2.990
B-46-24
9-5/8"
B-46-24-220
B-46-24-320
B-46-24-500
6"
T46-24
3"
2.990-3.115
B-48-24
9-5/8"
B-48-24-220
B-48-24-320
B-48-24-500
6"
T48-24
"C" SERIES - MANDRELS & STONES
FOR EXTRA LONG HOLES - 3/4 TO 3"

MANDRELS

STONE SET

TRUING SLEEVE
SIZE
RANGE
NUMBER
LENGTH "G"
COARSE
MEDIUM
FINE
LENGTH "F"
SIZE
3/4"
.740-.865
C-12-24
12"
C-12-24-220
C-12-24-320
C-12-24-500
6"
T12-24
7/8"
.865-.990
C-14-24
12"
C-14-24-220
C-14-24-320
C-14-24-500
6"
T14-24
1"
.990-1.115
C-16-24
12"
C-16-24-220
C-16-24-320
C-16-24-500
6"
T16-24
1-1/8"
1.115-1.240
C-18-24
12"
C-18-24-220
C-18-24-320
C-18-24-500
6"
T18-24
1-1/4"
1.240-1.365
C-20-24
12"
C-20-24-220
C-20-24-320
C-20-24-500
6"
T20-24
1-3/8"
1.365-1.490
C-22-24
12"
C-22-24-220
C-22-24-320
C-22-24-500
6"
T22-24
1-1/2"
1.490-1.615
C-24-24
12"
C-24-24-220
C-24-24-320
C-24-24-500
6"
T24-24
1-5/8"
1.615-1.740
C-26-24
12"
C-26-24-220
C-26-24-320
C-26-24-500
6"
T26-24
1-3/4"
1.740-1.865
C-28-24
12"
C-28-24-220
C-28-24-320
C-28-24-500
6"
T28-24
1-7/8"
1.865-1.990
C-30-24
12"
C-30-24-200
C-30-24-320
C-30-24-500
6"
T30-24
2"
1.990-2.115
C-32-24
12"
C-32-24-220
C-32-24-320
C-32-24-500
6"
T32-24
2-1/8"
2.115-2.240
C-34-24
12"
C-34-24-220
C-34-24-320
C-34-24-500
6"
T34-24
2-1/4"
2.240-2.365
C-36-24
12"
C-36-24-220
C-36-24-320
C-36-24-500
6"
T36-24
2-3/8"
2.365-2.490
C-38-24
12"
C-38-24-220
C-38-24-320
C-38-24-500
6"
T38-24
2-1/2"
2.490-2.615
C-40-24
12"
C-40-24-220
C-40-24-320
C-40-24-500
6"
T40-24
2-5/8"
2.615-2.740
C-42-24
12"
C-42-24-220
C-42-24-320
C-42-24-500
6"
T42-24
2-3/4"
2.740-2.865
C-44-24
12"
C-44-24-220
C-44-24-320
C-44-24-500
6"
T44-24
2-7/8"
2.865-2.990
C-46-24
12"
C-46-24-220
C-46-24-320
C-46-24-500
6"
T46-24
3"
2.990-3.115
C-48-24
12"
C-48-24-220
C-48-24-320
C-48-24-500
6"
T48-24
"DM" SERIES - MANDRELS & STONES
FOR SHORT HOLES - 3/4 TO 3"

MANDRELS

STONE SET

TRUING SLEEVE

SIZE
RANGE
NUMBER
LENGTH "G"
COARSE
MEDIUM
FINE
LENGTH "F"
NUMBER
3/4"
.740-.865
DM-12-8
5-5/8"
DM-12-8-220
DM-12-8-320
DM-12-8-500
1-15/16"
T12-8
7/8"
.865-.990
DM-14-8
6-1/8"
DM-14-8-220
DM-14-8-320
DM-14-8-500
1-15/16"
T14-8
1"
.990-1.115
DM-16-8
6-1/8"
DM-16-8-220
DM-16-8-320
DM-16-8-500
1-15/16"
T16-8
1-1/8"
1.115-1.240
DM-18-8
6-1/8"
DM-18-8-220
DM-18-8-320
DM-18-8-500
1-15/16"
T18-8
1-1/4"
1.240-1.365
DM-20-8
6-1/8"
DM-20-8-220
DM-20-8-320
DM-20-8-500
1-15/16"
T20-8
1-3/8"
1.365-1.490
DM-22-8
6-1/8"
DM-22-8-220
DM-22-8-320
DM-22-8-500
1-15/16"
T22-8
1-1/2"
1.490-1.615
DM-24-8
6-1/8"
DM-8-8-220
DM-24-8-320
DM-24-8-500
2"
T24-8
1-5/8"
1.615-1.740
DM-26-8
6-1/8"
DM-26-8-220
DM-26-8-320
DM-26-8-500
2"
T26-8
1-3/4"
1.740-1.865
DM-28-8
6-1/8"
DM-28-8-220
DM-28-8-320
DM-28-8-500
2"
T28-8
1-7/8"
1.865-1.990
DM-30-8
6-1/8"
DM-30-8-200
DM-30-8-320
DM-30-8-500
2"
T30-8
2"
1.990-2.115
DM-32-8
6-1/8"
DM-32-8-220
DM-32-8-320
DM-32-8-500
2"
T32-8
2-1/8"
2.115-2.240
DM-34-8
6-1/8"
DM-34-8-220
DM-34-8-320
DM-34-8-500
2"
T34-8
2-1/4"
2.240-2.365
DM-36-8
6-1/8"
DM-36-8-220
DM-36-8-320
DM-36-8-500
2"
T36-8
2-3/8"
2.365-2.490
DM-38-8
6-1/8"
DM-38-8-220
DM-38-8-320
DM-38-8-500
2"
T38-8
2-1/2"
2.490-2.615
DM-40-8
6-1/8"
DM-40-8-220
DM-40-8-320
DM-40-8-500
2"
T40-8
2-5/8"
2.615-2.740
DM-42-8
6-1/8"
DM-42-8-220
DM-42-8-320
DM-42-8-500
2"
T42-8
2-3/4"
2.740-2.865
DM-44-8
6-1/8"
DM-44-8-220
DM-44-8-320
DM-44-8-500
2"
T44-8
2-7/8"
2.865-2.990
DM-46-8
6-1/8"
DM-46-8-220
DM-46-8-320
DM-46-8-500
2"
T46-8
3"
2.990-3.115
DM-48-8
6-1/8"
DM-48-8-220
DM-48-8-320
DM-48-8-500
2"
T48-8